Erudition At VPMS Pune In The Times Of COVID-19
"Obstacles don't have to stop you. If you run into a wall, don't turn around and give up. Figure out how to climb it, go through it, or work around it."
-Michael Jordan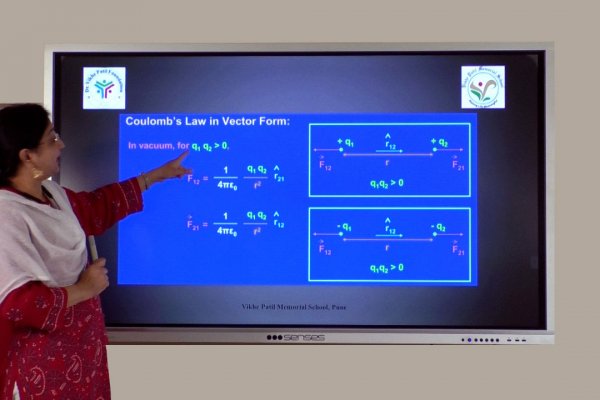 Ever since the Government announced the Pan India lockdown and schools were shut as a precautionary measure to prevent the spread of the Corona virus pandemic (Covid 19), the management of VPMS, Pune began mulling over plans to implement online classes for the students of classes 9th, 10th and 12th. The new academic year for these classes begins in April. In order to ensure that the academic progress of students continues unhindered, systematic online classes began from 9th April. Each class is of forty minutes duration with a ten minute break between classes, to enable the next subject teacher to set up and get ready for the class. There are two sessions from 9 am to 10.30 am followed by a short recess and another session. Post lunch there are two more sessions, making a total of five sessions per day. The school day ends at 2.30 pm corresponding to their regular school timings.
A unique feature of the Time Table is the inclusion of one session of Yoga for stimulation. Students have been constrained to stay indoors and their natural exuberance and effervescence has taken a huge hit. The practice of Yoga in such circumstances will prove immensely salubrious for them, helping to invigorate and revitalise them. It is imperative that both their bodies and minds remain agile and they are receptive to the knowledge being imparted to them.
The parents have been extremely appreciative of the initiative and planning done by the school administration. They have supported the concept wholeheartedly and have extended their unstinted cooperation. Mr Vivek Tuljapurkar, a parent writing to the Principal said, "It is obvious that in spite of the lockdown, you and your team have been working very hard to start the next academic year via electronic classrooms, I compliment all of you for a fantastic job. Considering the time available and various constraints, what you have achieved is nothing short of spectacular."
The teachers were enthusiastic to learn and experiment with technology and surpassed themselves in their efforts to prepare content quickly in order to effectively transact in the virtual classrooms. Despite apprehensions regarding technical glitches and students' responses, the teachers worked relentlessly and managed to execute and implement the plan admirably. The constant backing and encouragement from the Principal, Ms. Mrinalini helped to bolster the confidence of the staff members as they undertook this massive exercise of commencing live streaming of classes with more than 400 students. Her unwavering confidence and abiding faith in the team she leads is instrumental in the success of the plan.
The students on their part were excited and eager to begin with classes as it brought a sense of normality in these strange times. It gave them reassurance that things would return to normal soon. As they are currently enrolled in the crucial board classes, they have been eagerly anticipating the resumption of classes and are no longer anxious about syllabus completion. They have been giving their valuable inputs not only to teachers but to their peers. The genuine collaboration and exemplary assistance they are rendering to each other is undeniably commendable. Their eager willingness to complete assignments and their readiness to comply with the instructions given by teachers has proved to be a welcome revelation. According to Avani Garg, a class 12th Science student,
"I think overall it was a different experience. Other than a few technical glitches, we grasped what was taught in the lessons quite well. I'm glad we are able to utilise this time in lockdown constructively."
Another class 12th Science student, Nandini Trivedi said,
The lectures are great and I was impressed to see that the teachers have put in so much effort so that we don't waste our time. They have made awesome presentations and videos, while staying calm despite a few technical glitches. It was really nice to help them test this new technology. In short I did utilise my extended vacations finally.