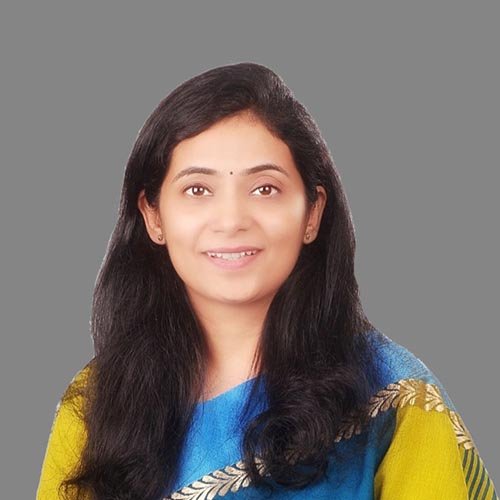 Ms. Sharvari Bandivadekar
Coordinator
The Lower Primary Section, VPMS Pune strives to provide a secure, supportive and nurturing environment wherein the young minds ignite their passion for learning and are intrinsically motivated to do their best in all spheres. The subjects offered for the holistic growth of students are an amalgamation of academics, sports and extra-curricular activities as stated
| Academics | Co Curricular | Sports |
| --- | --- | --- |
| English | Library | Skating |
| Maths | Art and Craft | Swimming |
| EVS | Indian Music | Taekwondo |
| Hindi | Western Music | Gymnastics |
| Marathi | Value Education | Physical Education |
While following the robust CBSE curriculum, a dynamic learning environment is provided that fosters critical thinking, application, logical analysis, problem solving and metacognition skills. A plethora of activities are conducted in academics and cocurricular platforms to understand and further students' hidden potential by ensuring equal opportunities. While participating in an array of activities: educational excursions, field trips, picnics, annual days, sport days, pair work, peer tutoring, Science and Math projects etc. students imbibe significant experiences, skills and values. In the teaching learning process, the teacher is a navigator, facilitator and mentor tending to the diverse learning styles of students. Assessment is embedded in the teaching learning process and is a vital component for improvement. The Periodic Tests and Subject Enrichment Tests conducted as per the CBSE structure reflect upon the students' understanding of the concepts taught. In our endeavor of making lives meaningful while shaping the young minds, we are constantly guided by the four pillars of core values that act as our guiding star.
We wish students in our care to be groomed into happy, independent and self-aware young students. We as a team aspire to provide a welcoming, safe, happy and supportive learning environment where all children feel loved, respected and encouraged to develop to their fullest potential. We wish students to come to school with a smile on their face for that smile says it all.
I enjoy my school, both physical and virtual. I love it when my teachers call out my name and ask whether I have understood everything. They also make us laugh and play in our classes.
The Junior Primary Section is a home away from home where every child's inner potential is identified and nurtured. My child loves to come to school wherein the classrooms are fresh and airy, library is stacked with books to cater to each child's liking and an inviting lush big playground right in the middle of the premises!
| Name | Subject |
| --- | --- |
| Ms. Snigdha Sarkar | English, Maths, EVS, V Ed |
| Ms. Geetanjali Pardeshi | English, Maths, EVS, V Ed |
| Ms. Neha Bhatnagar | English, Maths, EVS, V Ed |
| Ms. Shraddha Shirodkar | English, Maths, EVS, V Ed |
| Ms. Tabassum Ansari | English, Maths, EVS, V Ed |
| Ms. Maria Waghmare | English, Maths, EVS, V Ed |
| Ms. Anupam Acheriel | English, Maths, EVS, V Ed |
| Ms. Leena James | English, Maths, EVS, V Ed |
| Ms. Sadhana Patil | Hindi – All Divisions Std I, II, III |
| Ms. Barkha Karnawat | Maths – All Divisions |
| Ms. Sheetal Upadhye | English – CD Divisions |
| Ms.  Pratiksha Sadafule | EVS – All Divisions |
| Ms. Varsha Kanade | Marathi Std I, II, III – All Divisions |
| Ms. Sheetal Mahajan | Art and Craft – I, II, III – All Divisions |
| Ms. Urmila Tipnis | Story Telling/Reading – Std II |
| Ms. Vasanti Pawar | Story Telling/Reading – Std I |
| Ms. Sucheta Mithari | Counsellor, Value Education Std III |
| Ms. Madhavi Bhalwankar | Computer Science – Std III |
| Mr. Vivek Rathod | Indian Music, Std I and II |
| Mr. Jameer Kharkongor | Western Music Std I,II, III |
| Mr. Rajinder Kaur Chande | Indian Music, Std III |
Download Time Table of Std I,II,III
| Class | Subject | Name of text book | Publisher |
| --- | --- | --- | --- |
| I | English | Raindrops | Ratna sagar |
| | English | Grammar and More | Ratna sagar |
| | Maths | Living Maths | Ratna sagar |
| | EVS | | Ratna sagar |
| | Hindi | Jayanti | Cordova |
| | Marathi | Saptrang-3 | Edunova Solutions |
| II | English | Raindrops | Ratna sagar |
| | English | Grammar and More | Ratna sagar |
| | Maths | Living Maths | Ratna sagar |
| | EVS | | Ratna sagar |
| | Hindi | Jayanti | Cordova |
| | Marathi | Saptrang-3 | Edunova Solutions |
| III | English | Raindrops | Ratna sagar |
| | English Grammer | Grammar and More | Ratna sagar |
| | Maths | Living Maths | Ratna sagar |
| | Social Studies | Social Studies | Ratna sagar |
| | Science | Science Magic | Ratna sagar |
| | Hindi | Jayanti | Cordova |
| | Marathi | Saptrang-3 | Edunova Solutions |
| S. No. | Name | Class |
| --- | --- | --- |
| 1 | Ms. Snigdha Sarkar | I-A |
| 2 | Ms. Gitanjali Pardesi | I-B |
| 3 | Ms. Neha Bhatnagar | I-C |
| 4 | Ms. Shraddha Shirodkar | I-D |
| 5 | Ms. Tabassum Ansari | II-A |
| 6 | Ms. Maria Waghmare | II-B |
| 7 | Ms. Anupam Acherial | II-C |
| 8 | Ms. Leena James | II-D |
| 9 | Ms. Sadhana Patil | III-A |
| 10 | Ms. Barkha Karnawat | III-B |
| 11 | Ms. Sheetal Upadhye | III-C |
| 12 | Ms. Pratiksha Sadafule | III-D |