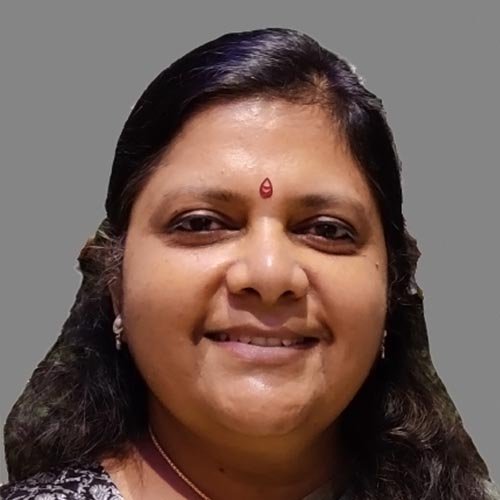 Ms. Jyothi Menon
Coordinator
In this section we are engaging with young adolescents ie students of classes IX & X. We understand how imperative it is to design the academics and co-curricular activities in a manner best suited to hold their interest.
The motto of our school is "Making Life Meaningful", and it is a privilege as teachers and mentors of the secondary section to empower our students to live up to it. Keeping this in mind- the prime objective is to nurture focussed and socially responsible young citizens of this country.
I would like to thank you a lot for being such a supportive, loving and motivational teacher. While teaching you just don't stick to the textbook concepts but it is beyond…. Really appreciate your sincere efforts and hard work in providing wonderful knowledge to us! This year was tremendous fun and rich of interesting facts and concepts. Without you being our lovely teacher, nothing of this would be true in its real sense.
I would like to acknowledge and appreciate the way the online classes were conducted. All the teachers have taken immense efforts for the same. The amount of patience the teachers have shown is remarkable.
Thank you so much for being patient with the kids, listening, understanding and addressing them the topics again and again. Taking regular follow-ups with each one for their pending assignment / projects.
| Sno | Name | Subject |
| --- | --- | --- |
| 1 | Ms. Shaheen Chaiwala | English |
| 2 | Mr. Umashankar D | English |
| 3 | Mr. Bharati Kudchadkar | English |
| 4 | Ms. Swati K | Marathi |
| 5 | Ms. Pournima D | Marathi |
| 6 | Ms. Deepti Prasad | French |
| 7 | Ms. Renuka W | French |
| 8 | Ms. Rajashree Singh | Maths |
| 9 | Ms. Jyothi Menon | Maths |
| 10 | Ms. Shubhangi Bapat | Science |
| 11 | Mr Santosh Ranpise | Science |
| 12 | Ms. Bindu Unnikrishnan | Science |
| 13 | Ms. Shirish Sant | History & Political Science |
| 14 | Ms. Anjali Naik | History & Political Science |
| 15 | Ms. Monika Mishra | Geography |
| | | | |
| --- | --- | --- | --- |
| | STD. IX | | |
| Sr. No. | SUBJECT | TEXT BOOK | PUBLISHER |
| 1 | English | Interact in English lit.Main Course Book,Beehive | NCERT |
| 2 | | Wk Bk/ Interactive Reader | NCERT |
| 3 | | Moments (supplimentry) | NCERT |
| 4 | Marathi | Marathi Aksharbharti | SSC |
| 5 | Grammar | Marathi (L.L.)Grammar and Composition | Jeevandeep Publication |
| 6 | French | Entre Jeunes | NCERT |
| 7 | | Work Book | |
| 8 | Maths | Mathematics | NCERT |
| 9 | Maths | Practise Book  Me and Mine | Saraswati Pub |
| 10 | Science | Science Textbook | NCERT |
| 11 | | Lab Manual | Goyal Brothers |
| 12 | History | India &the Contemporary world | NCERT |
| 13 | Political Sc. | Democratic Politics-I | NCERT |
| 14 | Geography | Contemporary India-I | NCERT |
| 15 | Economics | Economics | NCERT |
| | | | |
| | STD. X | | |
| Sr. No. | SUBJECT | TEXT BOOK | PUBLISHER |
| 1 | English | Interact in English lit. Reader | NCERT |
| 2 | | Main Course Book, Wk Bk/ | |
| 3 | | Rdg Txt- The story of my life(Hellen K) | laxmi publicatin |
| 4 | Marathi | Marathi Vachanpath | SSC |
| 5 | Grammar | Marathi (L.L.)Grammar and Composition | Jeevandeep Publication |
| 6 | French | Entre Jeunes -2 | NCERT |
| 7 | | Work Book | |
| 8 | Maths | Mathematics | NCERT |
| 9 | Maths | Practise Book  Me and Mine | Saraswati Pub |
| 10 | Science | Science Textbook | NCERT |
| 11 | | Lab Manual | Goyal Brothers |
| 12 | History | India &the Contemporary world-II | NCERT |
| 13 | Political Sc. | Democratic Politics-II | NCERT |
| 14 | Geography | Contemporary India-II | NCERT |
| 15 | Economics | Understanding Eco. Dev | NCERT |
| Sr No | Name | Class |
| --- | --- | --- |
| 1 | Mr. Shirish Sant | IXA |
| 2 | Mr. Santosh Wadhwa | IX-B |
| 3 | Ms. Rajashree Singh | IX-C |
| 4 | Ms. Shaheen Chaiwala | IX-D |
| 5 | Ms. Shubhangi Bapat | X-A |
| 6 | Mr. Santosh Ranpise | X-B |
| 7 | Mr. Umashankar Devadhe | X-C |
| 8 | Ms. Monika Mishra | X-D |